News Archive 2005
A chronological listing of information added to this site.
[Where What's New items go when they're no longer new.]
---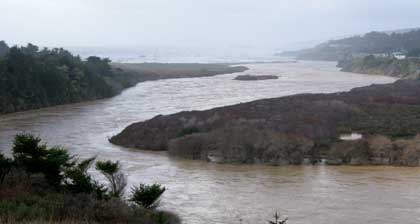 Gualala River estuary at full flood after torrential rains, 12/31/05

Benefit for Friends of the Gualala River new 12/12/05
For the third year, the Iseum of Mary/Isis invites the community to join in a Winter Solstice Celebration on Tuesday, December 20, 2005 at 7:00pm as a benefit for Friends of the Gualala River.
---
new 12/8/05
---
Timber Harvesting and Water Quality

200k new 11/27/05
The practice of timber harvesting on state and private lands in California is, in most cases, failing to adequately protect water quality and endangered and threatened species. - A report by the California Senate Office of Research, December 2002.

Blessing of the Gualala River new 11/20/05
Sunday, December 4, 2005 at 4:00pm
Gualala Arts Center
46501 Gualala Road, Gualala, CA 95445
As part of the "Day for Tibet" benefit at the Gualala Arts Center, a group of Tibetan monks on a world tour from the Gaden Shartse monastery in Southern India will conduct a blessing of the Gualala River.
Retail restoration and forest mitigation new 11/13/05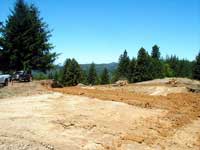 Vigilant public participation will be essential to ensure that political and regulatory decisions about vineyard conversion, and its mitigation, are fully informed by rigorous public interest review, and scientific scrutiny.

FoGR Environmental Art award new 10/29/05
Congratulations to local artist Joost Romeu for his award-winning work "The Five Natures."

Thanks and farewell to FoGR's past President, Ursula Jones, a true Friend of the Gualala River. new 10/13/05


FoGR's annual request for funds

108k new 10/13/05


We need your help! Please donate generously to protect the quality of our water and ensure the continued existence of healthy redwood forests, wildlife and salmon. [Letter / Flyer-pdf / Flyer-jpg]

FoGR letter to Sonoma Supervisors

144k new 9/28/05
To protect forestland, Sonoma County permit process for vineyard conversion should be a discretionary permit system rather than ministerial regulatory program.
updated 9/19/05

Gualala River photo tour updated 9/18/05
An updated photo tour of the Gualala River watershed, showing its natural beauty as well as damage caused by unsustainable human activity.
Gualala River watershed map new 9/18/05
Map showing the location of the Gualala River watershed. Produced for Friends of the Gualala River by Lane GeoGraphics.
North Coast Watershed Assessment Program new 9/18/05
Some areas of the North Coast have seen rapidly increasing agricultural activity, particularly conversion of grasslands or woodlands to vineyards. Such agricultural activities have typically been subject to little agency review or regulation and can pose significant risk of chronic sediment inputs to streams.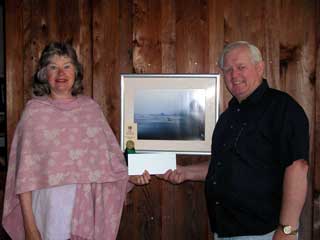 FoGR award at Art in the Redwoods new 8/31/05
Congratulations to local artist David Donaldson for his award-winning photograph "Fog and Water."
Grapes shouldn't replace trees new 8/21/05
The Sierra Club urges the strongest protection for our forestlands so that future generations will never ask: "Why is Sonoma County part of the Redwood Empire?"
County's vineyard vs. forest debate escalates new 8/21/05
A proposal to place greater restrictions on conversion of forests to vineyards is being called the most-watched issue to come before Sonoma County officials in almost a decade.
- Santa Rosa Press Democrat, 8/21/05
Sonoma County General Plan Update revised 5/14/05
Friends of the Gualala River supports the strongest possible protection for Sonoma County's remaining forests.
"Nature in a Bottle" new 4/18/05
Article on vineyard conversions in the Gualala River watershed in northwest Sonoma County, published in the Spring 2005 issue of California Wild, the magazine of the California Academy of Sciences.
Fireworks over the Gualala River estuary?

96k new 4/8/05
Ash residue from the fireworks could contaminate the closed lagoon with toxic heavy metals and perclorate.
Four upcoming events: new 3/1/05

Sat, 3/5, 3:00pm Threats to the Gualala River
The Sea Ranch Forum

Del Mar Center
Leeward Way, The Sea Ranch
Tu, 3/8, 2:30pm Critical Coastal Areas
Public workshop on coastal watersheds in critical need of protection from polluted runoff
VFW Hall
451 School Street, Point Arena
Tu, 3/8, 7:00pm The Endangered Species Act:
Defending our last safety net
Gualala Arts Center
46501 Gualala Rd, Gualala
POSTPONED Agency review of "Lily" logging plan
Controversial plan to log in the Gualala River
floodplain
Details will be posted here when meeting is rescheduled
---
Conservation Easements:
A Way to Protect the Gualala River new 1/12/05
Thursday, January 27, 2005, 7:00 p.m.
Gualala Community Center
47950 Center Street, Gualala, CA 95445
Friends of the Gualala River presents a panel of speakers to address a long-term vision for use of conservation easements to protect the Gualala River and its watershed, including:
Ralph Benson, Executive Director, Sonoma Land Trust
Mark Massara, Director of Coastal Programs, Sierra Club California
Laurie Mueller, President, Redwood Coast Land Conservancy, will moderate the panel.
Monitoring water quality on private land new 1/12/05
Friends of the Gualala River joins twenty other northern California groups in a legal brief supporting the State Water Board's right to require monitoring of water quality in privately owned forests.
---
Home | About FoGR | Get Involved | What's New | Search / Sitemap

Photo Tour | Forestry | Vineyards | Water Export | River Facts