News Archive 2004
A chronological listing of information added to this site.
[Where What's New items go when they're no longer new.]
---
Expert commentary on vineyard conversion new 12/21/04
Experts submit extensive comments to the Department of Forestry concerning the proposed timber harvest plan (THP 1-04-030 SON) for the Hansen-Whistler vineyard conversion.

Stop the Mad Water Grab new 12/21/04
Website provides information on the proposal to export bulk fresh water from the Mad River in Humboldt County and tow it to southern California in giant waterbags.
North Coast Water Network new 11/23/04
New website provides links to grassroots environmental and social justice groups in the north coast region of California focused on issues related to fresh water.
Destruction of Coastal Redwoods for Grapes? new 11/10/04
Wednesday, November 17, 2004, 7:30 p.m.
Gualala Community Center
47950 Center Street, Gualala, CA 95445
Featuring a slide show presentation on the impacts of logging and vineyard development in the Gualala River watershed. The meeting also will include the annual election of officers.
Stop forestland destruction new 11/10/04
Friends of the Gualala River joins the Sierra Club in legal action to strike down the Department of Forestry's approvals of three forestland to vineyard conversion projects in the Annapolis area of northwest Sonoma County, CA.
We all live downstream new 11/10/04
When it comes to water, we all live downstream. That's why the vineyard development that is eliminating the redwood forests of Annapolis is so important to the lower reaches of the Gualala River and its estuary.
Photo of the Gualala River estuary new 11/10/04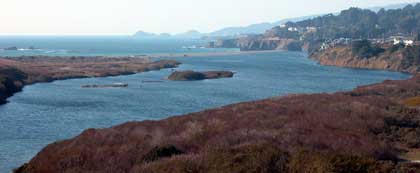 Full to the brim after the rains begin
copyright Friends of the Gualala River, October 28, 2004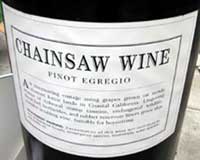 Chainsaw Wine new 11/10/04
Coastal forest activists from Sonoma County unveil their own vintage product at the "Pinot on the River" gathering in Guerneville.
Logging proposed near river banks new 11/8/04
Two logging plans proposed by Gualala Redwoods Inc. would cut trees in the floodplain of the North and South Forks of the Gualala River.
Redwood Coast Watersheds Alliance new 10/12/04
Friends of the Gualala River is a member of RCWA, which just launched its website.
Global Warming: 1st Steps to Meet the Challenge new 9/18/04
Sunday, October 3, 2004, 2:00 - 4:00 p.m.
Gualala Arts Center
46501 Gualala Rd, Gualala, CA 95445
Speakers:
Alan Strachan, Santa Rosa developer
Ann Hancock, Climate Protection Campaign Sponsored by Matrix of Change.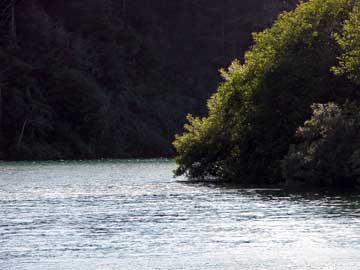 Wild & Scenic Rivers Bill Signed
new 9/18/04
Gov. Schwarzenegger signs legislation to strengthen environmental protections for California's Wild & Scenic Rivers, including the Gualala.
Conservation Easements: Use & Abuse updated 9/18/04
Thursday, September 23, 2004 at 7:00pm
Gualala Community Center
47950 Center Street, Gualala, CA 95445
Speakers:
Larry Camp, Internal Revenue Service
John Hansen, Integrity in Natural Resources
Jason Kibbey, Defense of Place
Mark Massara, Sierra Club California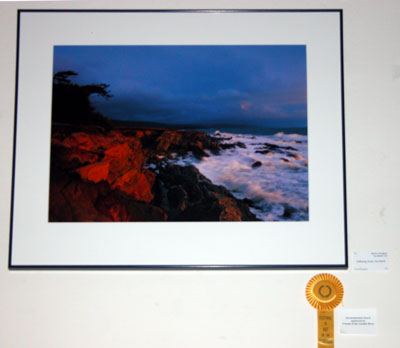 FoGR award at Art in the Redwoods
new 9/10/04
Congratulations to local artist Martin Covington for his award-winning photograph "Gathering Storm: Sea Ranch."
Artesa re-activates vineyard conversion plan updated 9/7/04
Department of Forestry requires Artesa to prepare a draft environmental impact report for their proposal to convert more than 160 acres of forest to vineyard in Annapolis.
Forestry documents available on CD new 9/7/04
A compilation of documents on the failure of the Department of Forestry to protect the environment is available on CD - useful in preparing comments on timber harvest plans and vineyard conversions.
Many vineyard conversions in Annapolis new 8/31/04
Multiple deforestation projects proposed in the Annapolis area to convert forestland to vineyards.
Haupt Creek old growth forest being logged new 8/31/04
After denying a plan to log 44 acres of old growth forest for lack of environmental information, the Department of Forestry exempts 890 acres of old growth from environmental review to permit logging of "dead, dying and diseased" trees.
Environmental Commons new 8/2/04
New environmental group based in Gualala promotes active involvement in defending our environmental heritage.
Gualala River Coastal Barrier Lagoon new 5/8/04
California Native Plant Society field trip led by Dr. Peter Baye
Sunday, May 16, 2004 at 10:00am
Gualala Point Regional Park
The Garcia River Success Story new 4/11/04
Recovering salmon populations - could it happen on the Gualala?
Saturday, May 22, 2004 at 7:00pm
Gualala Community Center
47950 Center Street, Gualala, CA
Speakers: Craig Bell, Peter Dobbins, Alan Levine
Protecting Public Rivers from the Corporate Grab-Bag
new 2/22/04
An article summarizing the waterbag campaign, by Ursula Jones.
Haupt Creek old growth logging plan rejected revised 1/30/04
The Board of Forestry ruled that the plan to begin logging the old growth forest on Haupt Creek failed to conform to the Forest Practice Rules. The forester submitted some additional information in hopes of overturning that ruling, but that information was ruled to be inadequate.
Artesa withdraws vineyard conversion plan revised 1/27/04
The proposal to convert 105 acres of forest to vineyard in Annapolis has been withdrawn by Artesa (owned by Codorniu, one of the world's largest wineries), but may be resubmitted later.
Protecting the Gualala River Watershed:
Lessons from Environmental Litigation
Paul Carroll, Environmental Attorney
Saturday, January 24, 2004, 1pm
Gualala Arts Center
47950 Center Street, Gualala, CA
(map & driving directions)
---
Home | About FoGR | Get Involved | What's New | Search / Sitemap

Photo Tour | Forestry | Vineyards | Water Export | River Facts