Forestry in the Gualala River watershed
Local News


Redwoods thriving as climate changes
Despite the warming climate, redwood trees are growing faster than at anytime over the last century, according to a report issued by the Redwoods and Climate Change Initiative.
August, 2013, Santa Rosa Press Democrat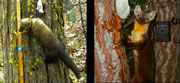 "Clearcutting in California" In California, 65,000 acres a year are logged by clearcut-type methods... a video production by Central Sierra Environmental Resource Center (CSERC).

Cumulative Effects of Logging
Linked to Coho Decline
Throughout the north and central California coast, Coho salmon are teetering on the brink of oblivion. The primary deficiency of the Forest Practice Rules is the failure to effectively address cumulative watershed effects.

Gualala River Forest Conservation Easement

The Wildlife Conservation Board (WCB) approved funding a conservation easement for a 14,000 acre parcel in the Gualala River watershed at its meeting on September 13.


Tribe buys coastal forest in Humboldt County

"The Tribe has long sought the return of ancestral land to create a salmon sanctuary and restore tribal cultural management practices, which benefit fish, wildlife and the ecosystem as a whole," Yurok Tribal Chairman Thomas O'Rourke said.

Protecting old growth redwoods
Center for Biological Diversity, Friends of the Gualala River and Coast Action Group file a lawsuit to protect the last remaining stand of old growth redwoods in the northern part of the Gualala River watershed from logging.
See: Press Release

Multiple definitions of old-growth forests
Scientists are learning much about the structural complexity of these forests and how it leads to ecological complexity - which makes possible their famous biodiversity.
[USDA report

1.6MB]

"California should ban clear-cutting"
If California is serious about reducing its greenhouse emissions, it must address the carbon dioxide emissions resulting from clear-cutting our forests. - Center for Biological Diversity
"Is the Future of Forest Offsets Already Here?"


Chris Kelly is spending his summer trying to catch the one that got away - the 13,900 acre Gualala River Forest in southwestern Mendocino County in California.
- August 22, 2008, The Ecosystem Marketplace
Old growth redwoods protected on former Palco land


Humboldt Redwood Company, new owner of Palco's forests, will spare the ancient groves where tree-sits have been keeping chain saws at bay. The message was delivered directly to tree-sitters and included a commitment to protect from future cutting all old growth 250 years old or more.

Downed old-growth redwood logs
Also known as buckskins, downed old-growth redwood logs provide highly important habitat structures for terrestrial and aquatic wildlife.

Harvesting old growth redwood logs
Manufacture of expensive old-growth redwood furniture and other forest products in the marketing guise of forest "restoration" in Annapolis.
Gualala Redwoods seeks development partner
Gualala Redwoods, Inc. is seeking a joint venture development partner for its 58 acre "Gualala Village" tract.
Logging above the town of Gualala
The Robinson Terrace logging plan covers 74 acres, half of which are to be clear-cut, directly above the town of Gualala, in an area zoned Gualala Planned Development. The plan was approved September 28, 2007.
Unsustainable commercial harvest of old-growth redwood logs, a vital component of our watershed's old-growth forest legacy, also occurs in the Gualala River watershed. FoGR is concerned about the cumulative effects of losing these irreplaceable forest floor structures that provide essential habitat to declining amphibian and invertebrate species that depend on them for part of their life-cycles.
Supreme Court upholds county logging rules
How logging is done falls under state law, according to the state Supreme Court ruling; where it's done is up to the locals.
Court upholds denial of floodplain logging plan
The Superior Court of Mendocino County upholds the California Board of Forestry's denial of a timber harvest plan in the floodplain of the Gualala River because it was likely to cause harm to endangered coho salmon.
Logging proposed near river banks
The Lily and Iris logging plans proposed by Gualala Redwoods Inc. would cut trees in the floodplain of the North and South Forks of the Gualala River.
Monitoring water quality on private land

64k
Friends of the Gualala River joins twenty other northern California groups in a legal brief supporting the State Water Board's right to require monitoring of water quality in privately owned forests.
Stop forestland destruction
Friends of the Gualala River joins the Sierra Club in legal action to strike down the Department of Forestry's approvals of three forestland to vineyard conversion projects in the Annapolis area of northwest Sonoma County, CA.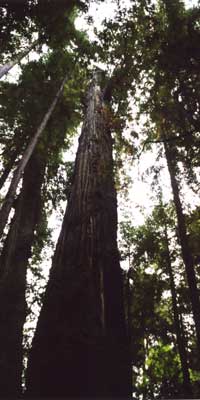 Haupt Creek old growth forest being logged
After denying a plan to log 44 acres of old growth forest for lack of environmental information, the Department of Forestry exempts 890 acres of old growth from environmental review to permit logging of "dead, dying and diseased" trees.
Forestry documents available on CD
A compilation of documents on the failure of the Department of Forestry to protect the environment is available on CD - useful in preparing comments on timber harvest plans and vineyard conversions.
The effect of clearcuts on water temperature
Water temperature is a critical limiting factor in the lives of many fish and amphibians, and air temperature is the most important factor influencing stream temperature. Clearcutting redwood forests raises air temperature, and condemns fish and amphibians to death.

Forestry in California
Timber Harvesting and Water Quality

200k
The practice of timber harvesting on state and private lands in California is, in most cases, failing to adequately protect water quality and endangered and threatened species. - A report by the California Senate Office of Research, December 2002.
---
An impaired river
The Gualala is considered an "impaired" river under the federal Clean Water Act because of excessive sediment and high temperatures, both of which can be lethal to salmon and steelhead. The excessive sediment and high temperatures are primarily the result of past logging practices.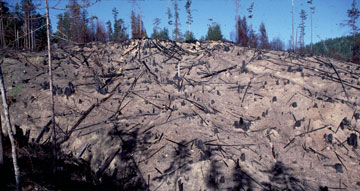 When trees are logged selectively, forest habitat is preserved, and the remaining trees hold the soil in place. The soil holds the rainwater, and releases it slowly. When a hillside is clearcut, there is nothing left to hold the soil, so the rain washes dirt and gravel down into the river and its tributaries.
When trees are left in the riparian zone (along the banks of a river or stream), they provide shade from the summer sun, which keeps water temperatures cool. California's Forest Practice Rules now require trees in the riparian zone to be preserved, but until those Rules were enacted in the 1970s, loggers cut right to the water's edge.
Sediments have filled in many of the deep pools in the Gualala River that once sheltered salmon. Now the shallower streams, with less shade coverage, heat up in the summer, becoming too hot to support the once-abundant salmon.
Given sufficient time, the sediment would be swept out of the river by high seasonal flows, and the salmon habitat would recover. However, a new round of clearcutting begun in the 1990s has further damaged the river, and delayed its recovery.
"I can't imagine a more glaring illustration of cumulative impacts than the Gualala River," said Helen Libeu, President of Citizens for Watershed Protection. "The cumulative impacts from clear-cut logging on steep slopes have simply filled the river in to where it's a sandbank with this little tiny strip of water snaking through."
Mary Pjerrou, President of the Greenwood Watershed Association, in "Watershed Protection, Myth and Reality," June 1999, said:
"The collateral damage from this destruction of the timber base has been severe, and is on-going: including the rivers of mud we see out in the ocean after every winter storm, from every river and stream along the coast; the imminent loss of the coho salmon; the potential loss of the steelhead.

The loss of these resources is illegal. We have laws that were supposed to prevent such losses. Government has failed to enforce them - and Big Timber has put up a relentless fight against all efforts to conserve soil, water, fish, wildlife and forest integrity."
---
Headlines
Links
Other websites
with info about forestry in the Gualala watershed
---
Home | About FoGR | Get Involved | What's New | Search / Sitemap

Photo Tour | Forestry | Vineyards | Water Export | River Facts